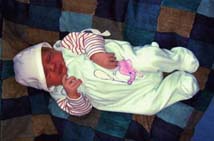 "A baby is God's opinion that life should go on."
- Carl Sandburg
The birth of a new baby is cause for joy and celebration. A Baby Naming ceremony gives you a wonderful opportunity to welcome your new baby into the world. Naming ceremonies are an important tradition in many different cultures the world over. They first originated in ancient times, functioning as a way to give thanks for the preciousness of new life and to welcome the baby into the family and wider community.

A Baby Naming ceremony allows parents to make a special commitment to their child and its future. It is an opportunity where parents can declare, with their friends and relatives as special witnesses, how they will care for, love and nurture their new baby.

Each Baby Naming ceremony that I perform is unique, reflecting the wishes and hopes of each individual family for their new child. The ceremony can be created according to the family's own needs, incorporating any selection of poetry, readings or music which you feel best expresses your love for your new child.

Some beautiful readings can be found here.